Do You Know Who Visits Your Website?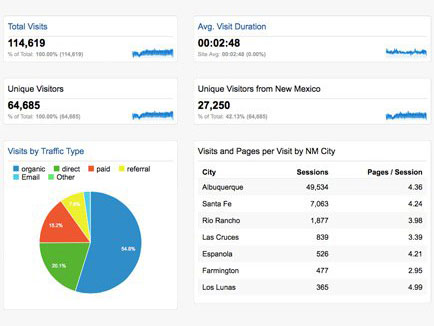 Do You Know Who Visits Your Website?
Do you know who visits your Website? Not really? Kind of, sort of? Maybe you know just your target audience. Is there really a way to know not just how many people frequent your site, but who? Yes there is! In fact, there are many different ways to track this information, some that cost, and some that are free. The most popular solution to analyze web traffic is free (shocking!) Google Analytics. Just to be clear, there is a premium version of Google Analytics, but most site owners do fine with the free version. Plus, it is ridiculously expensive and almost certainly reserved for Internet giants.



Google Analytics is a tool used by millions (over ten million to be exact) to track activity on any particular website. By using first party cookies, Google can track everything from how long visitors are on your site, what pages they viewed (click path), or if they are a new visitor or repeat. Cookie detection narrows the identity of the user down to the lowest common denominator, and therefore, gives a more accurate summary of your actual audience.



Google Analytics can be a very valuable tool if you know what to look at and how to program it to work for you. The first thing to look at is Audience Overview. This allows you to see the amount of traffic coming to your site, how long they are staying on your page, as well as location and operating system. Having this data gives you a general idea of how your site is performing and may lead to ideas on where to advertise, such as a city that you see a lot of traffic from. Next, shoot on over to Users Flow still under the Audience tab. This let you see how people are moving through your site, and will allow you to optimize pages that you see have a high drop off percentage. Next, head on over to Acquisition Overview to see how people are actually getting to your page. If you notice a lot of traffic through social media, think about placing an ad on Facebook. If your traffic is coming through paid searches, think about increasing your budget on Google AdWords. Also, be sure to link your AdWords account to your Analytics account so you can see what ads are working, and which can be optimized.



We also wanted to cover how to set up goals within Google Analytics. Goals allow you to track conversions on your website. Conversion happens when someone fills out a form, buys something from your site, or watches a video; it can be any desired action that can be performed on your site. You will be able to see how that course of action works, and enhance it in the future. Google has a number of statistics that you can set up Google Analytics to track. The easiest way to do this is with destination URL's. Make sure your forms have a "Thank You" page after being submitted as well. Your audience wants to be appreciated!



In order to add a new goal, first:
Login into your Google Analytics Account
Click on Admin
Then click on Goals on the right hand side
Click + New Goal button
Select the sign up template
Make sure Destination is checked and click next
In the Destination equals to field enter just the last part of the URL IE. /thanks.html
Turn on Funnel and just place a few steps like home page then contact page, but make sure Required Steps is not selected.


You have now created a goal and can see how many people have completed that conversion you have set up. If you want to track things like e-mail campaigns, or a banner ad on another site, you need to create a traceable link through Google here and use the link that Google gives you for the ad or e-mail:
https://support.google.com/analytics/answer/1033867?hl=en



We hope that you found this article extremely helpful. There are many benefits to using Google Analytics, and it is very essential to a business with a web presence. Seems like too much work, or too complicated? MediaLinkers Web Design is here to help. Our skilled staff has been trained to know what works for you, and how to apply the right analytics to your site. Contact our office today to set up a time to find the right track to take your business further.
Copyright © 2002 - 2023 Multi-Tech MediaLinkers, LLC. All Rights Reserved