Google Testing another Search Results Feature "Local Business Cards"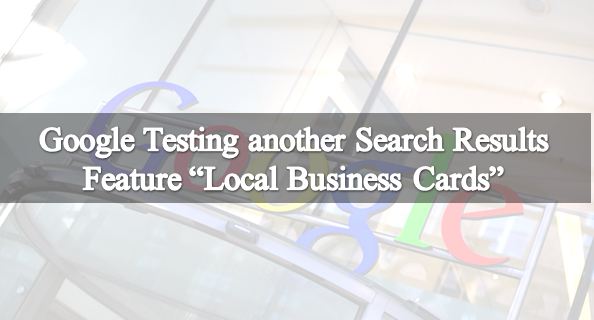 Google Testing another Search Results Feature "Local Business Cards"
The search results will soon be equipped with another feature "Local Business Cards," as Google has started testing it with the search results. This is a reasonable description of a new card carousel which features content from local businesses near the search results top.  This is a real test, as confirmed by Google itself, since local business cards are built on the similar display functionality as the candidate cards launched some time ago.
It is nothing more than an experiment at this phase. It is all about custom content, not withdrawn from Google My Business or other feeds. It is also worth noticing that Google has allowed and introduced animations for the first time on the search result pages.
The format was built keeping mobile users in mind to equally display in PC results. The local business cards will appear immediately aside the Knowledge Panel displaying that business on desktops and below the knowledge panel below the mobile.
As far as candidate cards are concerned the intent is to permit business to communicate directly in search results. Information and content highlights the business services and products in ways which knowledge panel doesn't allow. Content cannot be shared within carousel.
The feature is quite significant for local SEO, however Google has not yet confirmed if the Local Business Cards will be made a permanent feature of search results or not.
For news, stay tuned to
Medialinkers Kennesaw web design agency
.
Copyright © 2002 - 2023 Multi-Tech MediaLinkers, LLC. All Rights Reserved