Not Penguin, Panda or HTTPS Update: Google Working on a Core Search Algorithm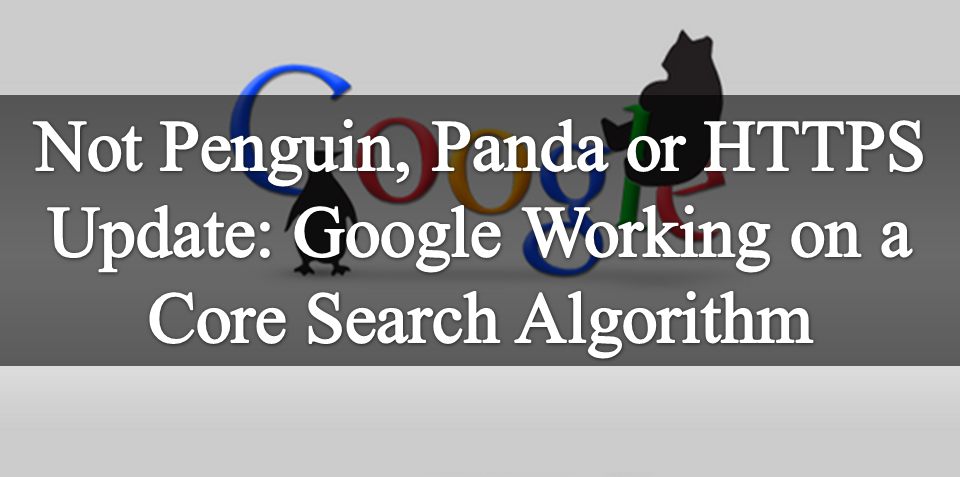 Not Penguin, Panda or HTTPS Update: Google Working on a Core Search Algorithm
A discussion about SEO was reported on the online forums two days back regarding a major Google Update. However, despite many SEOs and web owners were of the view, the update that the Google is cooking relates to the core search algorithm and not relevant in any case to the Panda algorithm. The news was confirmed by Google two days back and in addition, Google has also made it clear to the SEOs of professional companies that they have to expect a core search algorithm in the near future to continue working on a better search quality.
The statement shared by Google is as follows:
"The update is not Panda, as everyone knows that we are making improvements to our searching algorithms due to the continuous involvements in the web, we are continuing to work on the improvements across the board."
This is almost similar to the statement we got when we g
ot the Google Quality Update. The most interesting part is that a lot of automated tools used for tracking like Mozcast showed huge spikes in the Google search results changes. Despite what Dr. Pete Meyers thought regarding the update to be a part of HTTPS algorithm, Garry Illyes denied it on Twitter, saying that the reason for the tool to show a tremendous spike was regarding the NO 1 Google search result, as Wikipedia changed its links to HTTPs, causing the tool to spike and changing the results in Google pages.
So in short, you can say that what Google has made clear is that the update that is about to come is not any case related to the Panda, Penguin or the HTTPS. It is simply a Google core search update that Google is not sharing any more information on. Follow
Medialinkers
blog for latest updates on SEO.
Copyright © 2002 - 2020 Multi-Tech MediaLinkers, LLC. All Rights Reserved